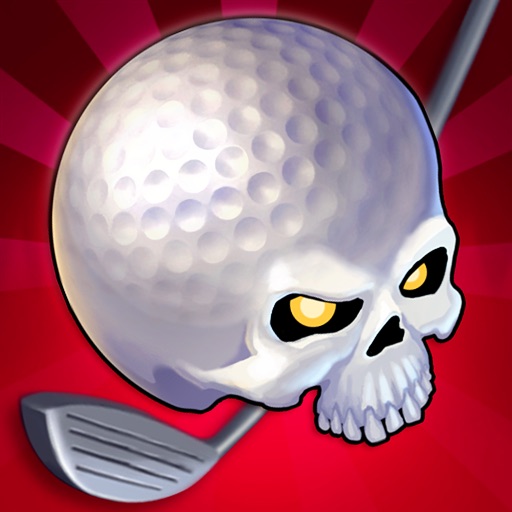 Death Golf™
| | PUBLICATION | DATE OF REVIEW | SCORE | REVIEW LINK |
| --- | --- | --- | --- | --- |
| | | 15 Aug 2016 | 8.0 | Read reviews |
| | | 15 Jan 2013 | 7.4 | |
| | | 16 Jan 2013 | 7.0 | Read the review |
| | | 14 Jan 2013 | 7.0 | Read the review |
| | | 14 Jan 2013 | 6.0 | Read the review |
| | | 16 Jan 2013 | 5.2 | Read the review |
| | | 21 Jan 2013 | 5.0 | Read the review |
APP STORE SUMMARY
***AWARDED NEW & NOTEWORTHY BY APPLE!*** 4 out of 5 stars from iReviewT! If you like golf games and platform adventures then Death Golf is THE game for you! Adventure through incredible golf courses in this revolutionary platform golf game. Use skill and timing to aim your shots, then combat ferocious predators and ingenious traps on a journey to the hole!

- More than 35 holes to play; each with fantastic scenery, creatures and effects!
- Duck into the clubhouse and upgrade your gear to gain fearsome golfing abilities.
- Use devastating Death Golf power-ups and colossal point-boosting combos to head for the hole!
- Retina Display support for all devices!
- Courses include the Shady Swamps, hi-temp Heat Hazard and the fearsome Skullcrush Keep.
- Choose your golfer's appearance and abilities, then see them in action!
- Game Center leaderboards and achievements mean you can track your progress against other fearless Death Golfers!
IMAGES (5)
EMBED THIS QUALITYINDEX BADGE
To add a Qi badge for Death Golf™ to your site:
Copy the HTML code snippet and paste it into your site.
The badge will automatically display on your web page with the Death Golf™ iPhone app's current Qualityindex rating.
OTHER GAMES & APPS FROM AYOPA GAMES LLC
News
Features
Latest Releases