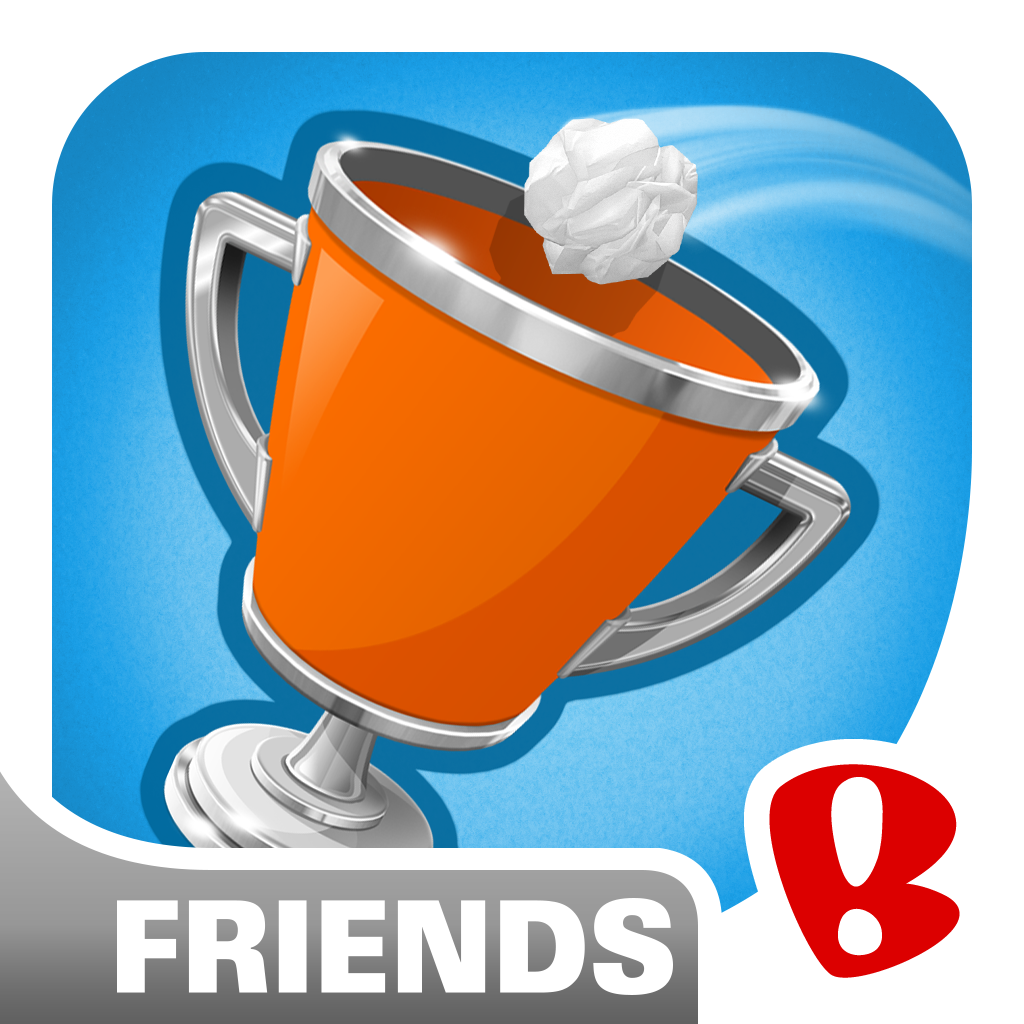 Paper Toss Friends
APP STORE SUMMARY
Let's play Paper Toss Friends! Now you can take turns playing Paper Toss with your Facebook, Twitter and Game Center friends, email contacts, and other real people. Introducing Paper Toss Friends - It's Your Turn!

★★★★★ 5-Star Reviews!

"Paper Toss Friends is stupidly addictive." ~ Gamezebo.com

"The multiplayer aspect is implemented excellently." ~ 148Apps.com

"Social gaming fiends who crave something different from the typical word-puzzling fare should definitely check this one out." ~ Modojo.com

Apple recently recognized the original Paper Toss app one of the Top 3 Most Popular Free iPhone Games ever. Paper Toss Friends is a social, multi-player version of the mega-hit game where you compete against other iPhone, iPad & iPod Touch players. You'll score points by flicking wads of paper into the office trash can. Take turns with your Facebook, Twitter & Game Center friends, email contacts, or random opponents from around the world. Out toss the other player over three rounds and you win. Then, let the trash talking begin!

Paper Toss Friends is entirely free!

✔ Flick paper balls in the trash bin to win
✔ Challenge Facebook & GameCenter friends
✔ Invite your email & Twitter contacts to play
✔ Toss watermelons, grenades & other stuff
✔ Select from several levels of difficulty
✔ Kill time and avoid real work

Install Paper Toss Friends today!

✵✵✵ Paper Toss Friends
✵✵✵ It's Your Turn!

______________________________

Paper Toss Friends is brought to you by Backflip Studios, makers of absurdly fun mobile games like NinJump, DragonVale, Ragdoll Blaster, Strike Knight, Army of Darkness Defense, Shape Shift and Remembird. Search the App Store for "Backflip Studios" to see all our apps.

Follow @BackflipStudios on Twitter for free game announcements and other updates.

Thanks for playing!
IMAGES (5)
EMBED THIS QUALITYINDEX BADGE
To add a Qi badge for Paper Toss Friends to your site:
Copy the HTML code snippet and paste it into your site.
The badge will automatically display on your web page with the Paper Toss Friends iPhone app's current Qualityindex rating.
OTHER GAMES & APPS FROM BACKFLIP STUDIOS
show more
Latest features on Paper Toss Friends
News
Features
Latest Releases