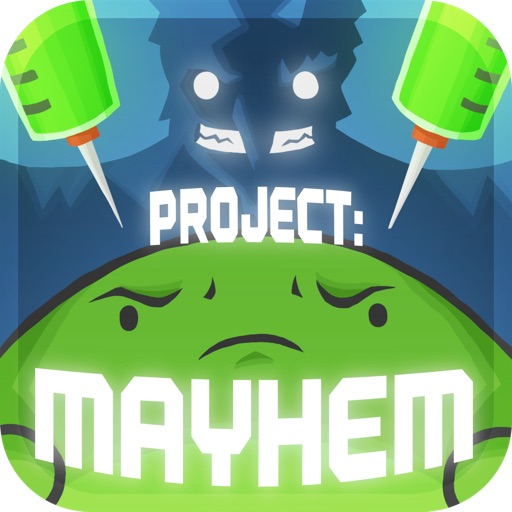 Project: Mayhem
APP STORE SUMMARY
*** Project: Mayhem is currently crashing at start-up on iOS 8, we are actively working on a fix and will have it submitted ASAP ***

DESCRIPTION:
Project: Mayhem is a fast paced platformer where you play as Mayhem, a biologically engineered weapon of mass destruction, trying to escape the clutches of his evil clones and, his creator, the mad scientist. During his escape Mayhem will run, jump and slide his way around obstacles such as spikes, electricity and the many forms of his evil clones.

Can you make it?

FEATURES:
• 135 levels spanning 2 game modes!
• 4 medals per level that will reward you accordingly!
• Unique and intuitive touch controls!
• Vivacious yet elegantly crafted music!
• Gorgeous artwork that leads you through the story of Mayhem!
• Game Center achievements and leaderboards!
• An in game store where you can spend your hard earned Mayhem Bucks to purchase accessories, gadgets and much much more!
• Regular FREE updates with new game modes and levels that constantly challenge and amaze you!

ADVENTURE MODE:
Follow the story of Mayhem through adventure mode. You will learn the ins and outs of Project: Mayhem through a fun and intellectually designed learning system that steadily teaches you the fundamentals.

CONQUEST MODE:
Take Project: Mayhem to the next level with conquest mode. This uber challenging setting will pit you against the very fabric of what Project: Mayhem is. You will need skill, wit and patience to conquer these arduous levels.
IMAGES (5)
EMBED THIS QUALITYINDEX BADGE
To add a Qi badge for Project: Mayhem to your site:
Copy the HTML code snippet and paste it into your site.
The badge will automatically display on your web page with the Project: Mayhem iPhone app's current Qualityindex rating.
show more
Latest features on Project: Mayhem
News
Features
Latest Releases