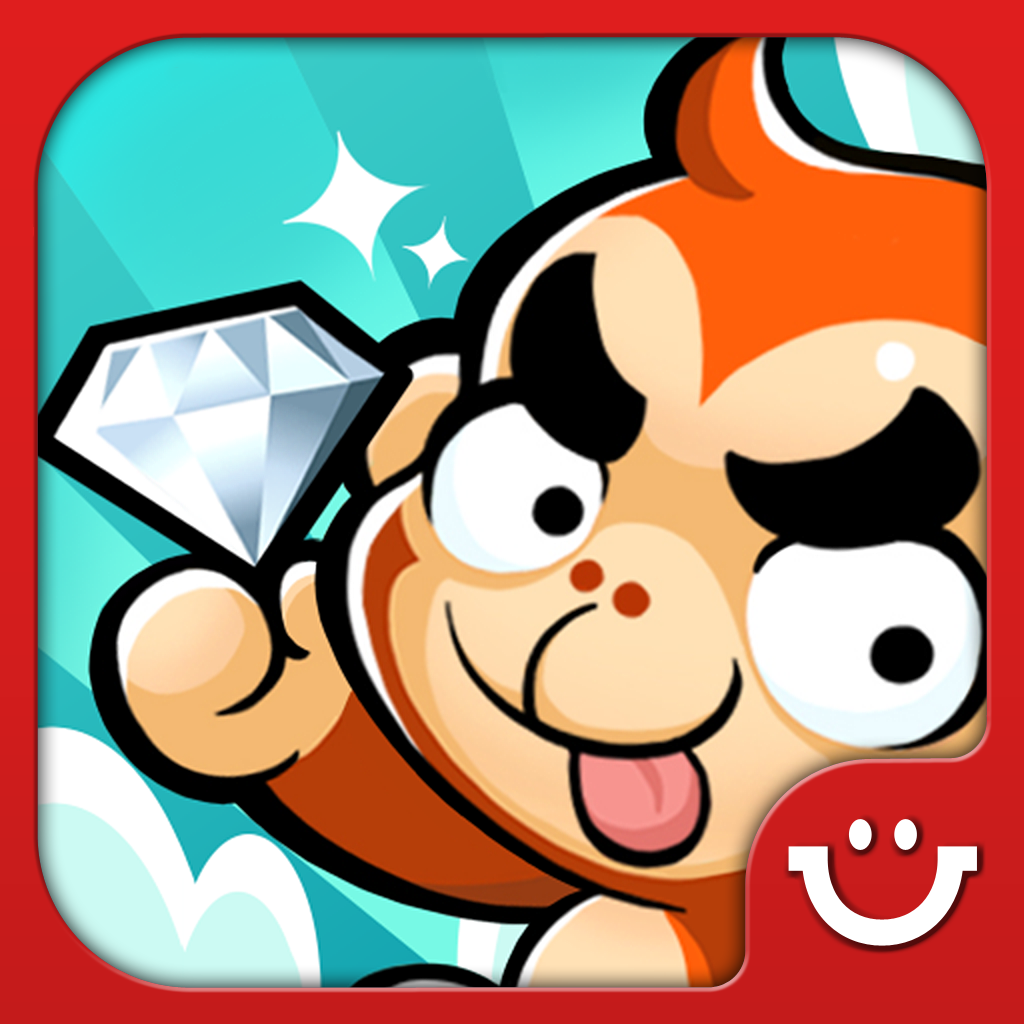 Escape The Ape
| | PUBLICATION | DATE OF REVIEW | SCORE | REVIEW LINK |
| --- | --- | --- | --- | --- |
| | | 27 Oct 2014 | 9.0 | Read reviews |
| | | 24 Oct 2011 | 7.8 | Read the review |
| | | 28 Sep 2011 | 7.2 | |
| | | 06 Oct 2011 | 7.0 | Read the review |
| | | 04 Nov 2011 | 6.0 | Read the review |
APP STORE SUMMARY
** Find Escape the Ape wallpapers in the "Pimp Your Screen" app! **

If you fall, you die. Wanna live? Then, jump!!
JoJo, a chimp that runs from a gigantic ape, climbs up trees to get away.
Jump up high with speed and other moves in
Escape the Ape !!

JoJo the monkey is off on a treasure hunt to search for the legendary jewel in the tropical jungle.
Finally, he gets his hands on the jewel...but an enormous gorilla statue that protects it comes to life!!
Help JoJo escape this humongous ape by jumping up the trees.

Simply draw a line to create a trampoline that bounces JoJo up to the top.
Go up as high as you can while you snag jewels and bananas. But, be careful! Try to avoid rotten bananas and other obstacles!

FEATURES!
*** Trampolines you can Draw ***
Unlike other games that have a foothold to jump on, you can simply draw a line to create a jumping spot in Escape the Ape.
Draw a line below JoJo at a desired angle and position. Sometimes, you might need to draw lines beforehand to support this chimp.

*** Combo Jumps ***
Create a trampoline for JoJo at just the right place to get a Super~ Combo Jump!

*** Banana Jumps ***
Quench your thirst for banana juice. Fill up your glass by getting bananas and bounce up even farther away when you're in trouble!

*** Jewel Collections and Upgrades ***
Collect jewels and upgrade your items to reach the top!

*** Rankings and Challenges ***
Compete with your friends and participate in other diverse challenges!

Connect with Com2uS!

Follow us on Twitter
twitter.com/Com2uS

Like us on Facebook!
facebook.com/Com2uS

For information on new games and special events, check out http://www.withhive.com!
IMAGES (5)
EMBED THIS QUALITYINDEX BADGE
To add a Qi badge for Escape The Ape to your site:
Copy the HTML code snippet and paste it into your site.
The badge will automatically display on your web page with the Escape The Ape iPhone app's current Qualityindex rating.
OTHER GAMES & APPS FROM COM2US USA, INC.
show more
News
Features
Latest Releases