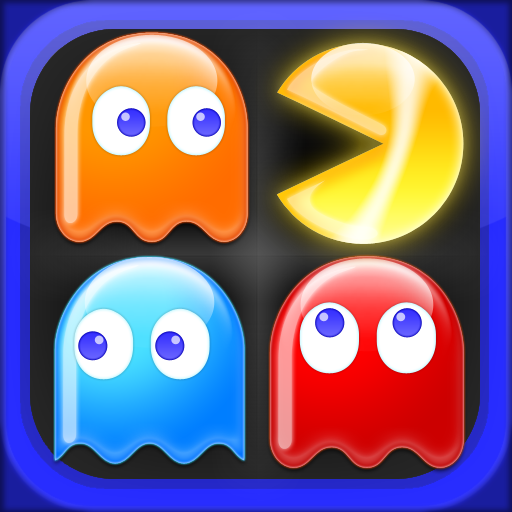 PAC-CHOMP!
| | PUBLICATION | DATE OF REVIEW | SCORE | REVIEW LINK |
| --- | --- | --- | --- | --- |
| | | 28 Mar 2015 | 8.0 | Read reviews |
| | | 10 May 2011 | 7.0 | Read the review |
| | | 22 Apr 2011 | 6.0 | Read the review |
| | | 26 May 2012 | 6.0 | Print only |
APP STORE SUMMARY
We regret to inform you that service for this application will be terminated as of 3/30/2015.
*Upon service termination, guarantees of operation no longer apply.
*The dates and times given above may be changed without prior notice.

[Warning]
This application does not currently support iOS 8.

[Warning]
This application does not currently support iOS7.
------------
Free upgrade

Improved controls! Faster tempo!
New ENDLESS mode and new achievements!
Play at any speed you like!

In a new addition to the bonus stage controls mean that you can now use touch control to make PAC-MAN stop where he is.
================================================================
That perennial favorite PAC-MAN is back in a match 3 puzzle game!

Get rid of GHOSTS like BLINKY and INKY by matching their colors. Moving PAC-MAN is the key to success.
"PAC-CHOMP!" is a match-3 puzzle game for the strategy-minded.


This is a simple puzzle game where you match 3 GHOSTS of the same color.

Moving PAC-MAN is the key to getting a high score. Make use of the ROTATE button to get PAC-MAN to gobble up a range of items. When he chomps on an item lots of GHOSTS disappear at once! Gobbling a POWER PELLET causes all the GHOSTS to TURN-TO-BLUE!
Eat as much as possible to get rid of those pesky GHOSTS.

In later levels you'll run into even more types of GHOST.


[Game modes]
-NORMAL
*In NORMAL mode eliminate pesky GHOSTS to fill up the time gauge and clear each level.

-HARD CORE
*In HARD CORE mode the gauge empties faster than NORMAL mode, resulting in an action-packed race against time.

-SCRAMBLE
*In SCRAMBLE mode rush frantically to build up your score as high as possible within the time limit!

-ENDLESS
*Eliminate GHOSTS to your heart content in the new, time limit-free ENDLESS mode!


[GameCenter]
Because Game Center is supported, you can compare your scores with friends all over the world.


[How To Play]
-When you match 3 or more GHOSTS of the same color, you can flick the screen to switch ghosts to the top, bottom, left, or right.

-Match 3 or more GHOSTS of the same color to make them disappear.

-Match 4 GHOSTS to make an item appear, or 5 GHOSTS to make a POWER PELLET appear.

-Items are triggered when PAC-MAN eats them.

-A bonus stage is triggered when PAC-MAN gobbles up a POWER PELLET.

-Eliminate several sets of GHOSTS in a row to score combos.

-You can use the ROTATE button at the bottom of the screen to rotate a 5 x 5 area 90 degrees to the right.
IMAGES (5)
EMBED THIS QUALITYINDEX BADGE
To add a Qi badge for PAC-CHOMP! to your site:
Copy the HTML code snippet and paste it into your site.
The badge will automatically display on your web page with the PAC-CHOMP! iPhone app's current Qualityindex rating.
OTHER GAMES & APPS FROM BANDAI NAMCO ENTERTAINMENT AMERICA INC.
show more
News
Features
Latest Releases