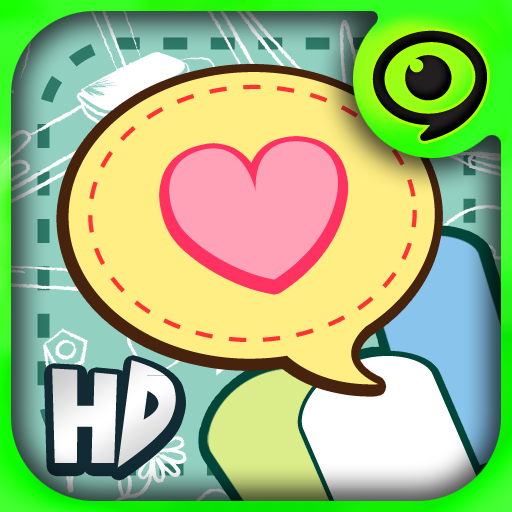 Chalk n' Talk
APP STORE SUMMARY
Chalk it out, Talk it up! Sketch and guess together to win!

─────────────────────

USERS SAYS

How about a more modernized style of your favorite, classic Pictionary. With a large database of words, online play so you can play anywhere, a content-packed shop and an allure so irresistible, Chalk n' Talk is the game that you don't want to miss!
- Nkatti97

The saying, "just another round" really shines through in Chalk n' Talk as you become fully immersed in this friendly bout of charades with family and friends.
- ChocoVanilla

You draw, people guess. Others draw, you guess. Chalk n' Talk is the game where you can share your creative arts to others in VERY FUN WAY!
- Bdragonst

─────────────────────

FEATURES

ONLINE SOCIAL WORD GUESSING GAME
Incredibly simple to play. Draw the word and guess to win!

CHALLENGE OTHERS FROM ALL AROUND THE WORLD
Log in from anywhere to compete live against users from all over the planet.

CUSTOMIZE YOUR ARTWORK AND CANVAS
Create stunning sketches with 29 illustrative artwork brushes and 15 colorful canvases.

SOCIALIZE, SHOW-OFF AND SHOUT OUT!
Post your best pictures onto your own gallery and show-off the display board to claim your 15 minutes of fame!

CHAT AND INVITE FRIENDS FOR PRIVATE PLAY
Make new friends or invite close friends! Create private rooms to chat and play all night long.

─────────────────────

OTHER GAMEVIL GAMES

Air Penguin
Baseball Superstars® II
Baseball Superstars® 2010 HD
Boom It Up!
HYBRID 2: Saga of Nostalgia
ILLUSIA
KAMI RETRO
KAMI RETRO HD
NOM: Billion Year Timequest
Soccer Superstars® 2011 Pro
VANQUISH: The Oath of Brothers
ZENONIA® 3

─────────────────────

NEWS & EVENTS

Website http://www.gamevil.com
Facebook http://facebook.com/gamevil
Twitter http://twitter.com/gamevil
YouTube http://youtube.com/gamevil
IMAGES (5)
EMBED THIS QUALITYINDEX BADGE
To add a Qi badge for Chalk n' Talk to your site:
Copy the HTML code snippet and paste it into your site.
The badge will automatically display on your web page with the Chalk n' Talk iPhone app's current Qualityindex rating.
OTHER GAMES & APPS FROM GAMEVIL COM2US USA, INC.
show more
News
Features
Latest Releases