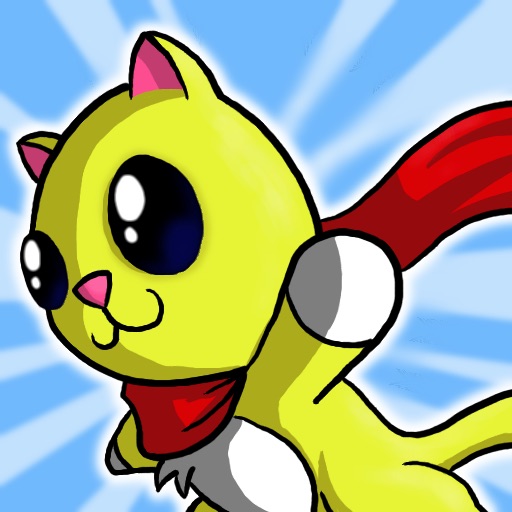 Skycat and the starchildren
Showing app details for
iPHONE
| | PUBLICATION | DATE OF REVIEW | SCORE | REVIEW LINK |
| --- | --- | --- | --- | --- |
| | | 25 Jan 2011 | 8.0 | |
| | | 21 Oct 2010 | 7.5 | Read the review |
| | | 18 Aug 2016 | 7.0 | Read reviews |
| | | 16 Dec 2010 | 6.5 | Read the review |
| | | 17 Dec 2010 | 6.0 | Read the review |
APP STORE SUMMARY
"The platforming in Skycat and The Starchildren is fantastic" -TouchArcade

"Skycat turns the endless running genre on its head by giving it an ending." -SlideToPlay

Skycat and the starchildren is a FAST-PACED, CONSTANT-RUNNING platform game, where YOU take the role as Skycat on his mission to save his dear friend Fatcat from certain DOOM. Unlock THREE unique worlds with a total of EIGHTEEN levels in story-mode or compete against your friends for the BEST TIMES in time-trial mode.

- Charming cartoon graphics with smooth character animations
- Storybook-like intro and ending
- A total of 18 levels
- 3 worlds with unique graphical themes and music
- Ranking system with Gold/Silver/Bronze for each level
- Multiple paths through each level
- Score sharing through Facebook
- Leaderboards supported by Game Center

follow us on facebook: http://www.facebook.com/pages/Frostware/156553027706677
and twitter: http://twitter.com/FrostwareAB




*** IMPORTANT: please read the following if you are having trouble with the game ***

- Skycat and the starchildren is only compatible with third and fourth generation devices. This means iPod Touch 3:rd generation, iPod Touch 4:th generation, iPhone 3GS, iPhone 4 and the iPad.

-The 8GB version of the iPod Touch that was released with the 3:rd generation iPod Touch devices is actually 2:nd generation and will therefore not work.
IMAGES (5)
EMBED THIS QUALITYINDEX BADGE
To add a Qi badge for Skycat and the starchildren to your site:
Copy the HTML code snippet and paste it into your site.
The badge will automatically display on your web page with the Skycat and the starchildren iPhone app's current Qualityindex rating.
OTHER GAMES & APPS FROM FROSTWARE AB
News
Features
Latest Releases