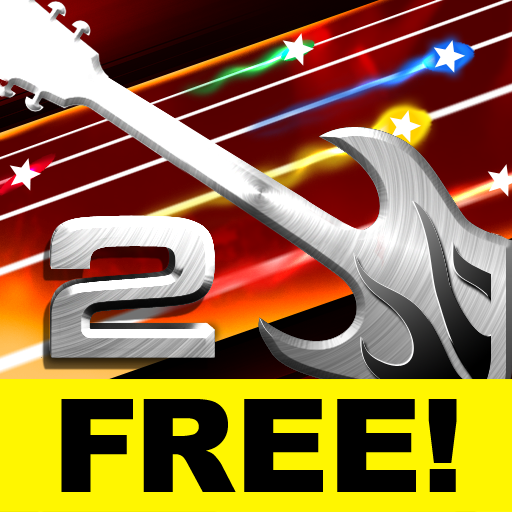 Guitar Rock Tour 2 FREE!
Showing app details for
iPHONE
| | PUBLICATION | DATE OF REVIEW | SCORE | REVIEW LINK |
| --- | --- | --- | --- | --- |
| | | 16 May 2013 | 6.0 | Read reviews |
| | | 27 Jun 2010 | 6.0 | |
APP STORE SUMMARY
The most rockin' music game is back for your iPhone and iPod touch. More songs, more stages, more characters, new features... MORE ROCK!

In Guitar Rock Tour 2 FREE, join your band in front of the Statue of Liberty to play the guitar or the drums on the hit song "Born To Be Wild"! Tap your screen to the beat of the track, but don't miss a note or you'll hear it and get booed off the stage!

FULL VERSION FEATURES:

- A BRAND NEW EXPLOSIVE TRACKLIST includes 18 world famous rock hits! Tap the screen to the beat of your favorite songs like: Call Me, Born To Be Wild, Sweet Home Alabama, 9 In The Afternoon, Paranoid, Helicopter, I Love Rock 'N Roll, I Wanna Rock, Woman and more!

- THE MOST IMMERSIVE ROCK EXPERIENCE, now with 2 playable instruments: Guitar & Drums. Like a real musician, don't miss a note or you'll hear it and get booed by the crowd!

- CHALLENGE YOUR FRIENDS in Multiplayer Mode (local WiFi) to prove you're the best guitarist or drummer.

If you like rock music and have a sense of rhythm, your road to stardom starts right here. Put your band under the spotlight and become a legend of rock in a thrilling Career Mode. Make tour stops at 10 legendary locations like: NY and Tokyo, and even in front of the Pyramids!

Other recommended music games: DJ Mix Tour, Guitar Rock Tour.

Published and distributed by Gameloft.

** Follow Guitar Rock Tour on Twitter and be the first to know about exclusive news and updates, competitions, gifts and more! http://twitter.com/GuitarRockTour **
IMAGES (4)
EMBED THIS QUALITYINDEX BADGE
To add a Qi badge for Guitar Rock Tour 2 FREE! to your site:
Copy the HTML code snippet and paste it into your site.
The badge will automatically display on your web page with the Guitar Rock Tour 2 FREE! iPhone app's current Qualityindex rating.
OTHER GAMES & APPS FROM GAMELOFT
News
Features
Latest Releases