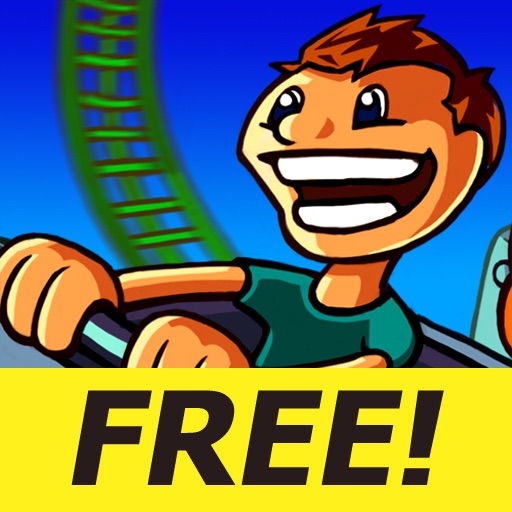 Rollercoaster Rush FREE
Showing app details for
iPHONE
| | PUBLICATION | DATE OF REVIEW | SCORE | REVIEW LINK |
| --- | --- | --- | --- | --- |
| | | 02 Jun 2009 | 6.0 | Read the review |
| | | 13 Aug 2016 | 6.0 | Read reviews |
APP STORE SUMMARY
Step on the brakes and take a ride with Rollercoaster Rush, an award-winning and highly addictive game with over 50 million play sessions on Facebook and other gaming platforms.

-----------------------------------------
Check out our latest games:
3D Mini Golf Challenge
Dictator Defense
Download the Free Version now!

GAME REVIEW
IGN says: "Rollercoaster Rush is a brilliant mobile game -- everything is so perfectly tuned for the platform, from the simplistic concept that initially hides insidiously deep play to the clever track designs."
-----------------------------------------

The Free Version has 3 insane rides. Purchase the Full Version and take on over 70 different action-packed rollercoaster tracks all located over the world including the United States, France and Australia. Challenge and overcome loop-the-loops, big jumps and more! Race to unlock more tracks as you work to get a 5 star rating for each track! Speed increases your excitement meter, multiplying your score, but even small jolts are enough to send carts hurtling into space!

BUY THE FULL VERSION & GET:
- Over 70 rollercoaster tracks in Australia, France and the United States.
- Expertly designed tracks with realistic coaster physics
- Unique iPhone and iPod touch controls -- users can tap or touch the screen to accelerate and brake or players can use the accelerometer feature by tilting the device to make the carts go faster and slower.
- Bright and stunning graphics
- Collect bonus power ups in-game such as extreme g, astronaut award, no brakes and more!
- Adrenaline pumping and exciting real music!

MORE FUN ON APPLE APP STORE
Check out DChoc's hottest games: Crazy Penguin Catapult, 3D Rollercoaster Rush, 3D Mini Golf Challenge, Tower Bloxx Deluxe 3D, 3D Brick Breaker Revolution and Millionaire City.

GREAT DEAL WITH THE PREMIUM VERSION
Download the Paid version for unlimited replay value packed with even more gameplay modes, levels, power-ups and special unlocks. Get the full experience!

FIND DC ON THE WEB
Get updated with Digital Chocolate's latest product, promos and game tips! Visit us on Facebook, MySpace, YouTube and Twitter! Find us FAST by searching for dchoc.

All trademarks referenced herein are the property of their respective owners.
IMAGES (5)
EMBED THIS QUALITYINDEX BADGE
To add a Qi badge for Rollercoaster Rush FREE to your site:
Copy the HTML code snippet and paste it into your site.
The badge will automatically display on your web page with the Rollercoaster Rush FREE iPhone app's current Qualityindex rating.
OTHER GAMES & APPS FROM ROCKYOU, INC.
News
Features
Latest Releases