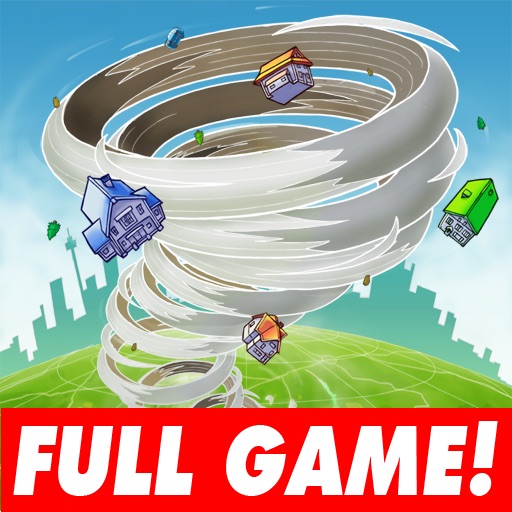 Tornado Mania! All FREE
Showing app details for
iPHONE
| | PUBLICATION | DATE OF REVIEW | SCORE | REVIEW LINK |
| --- | --- | --- | --- | --- |
| | | 13 Aug 2016 | 6.0 | Read reviews |
APP STORE SUMMARY
AWARD WINNING GAMEPLAY (J2ME Review)

Top gaming outlet IGN gives a perfect 10 and says "a genius concept executed upon with brilliantly simple controls and excellent challenge-reward mechanics. It deserves this 10."
-----------------------------------------------

This innovative game of mass destruction and utopia construction is now completely free. Download now and get the full Tornado Mania experience at no cost to you!

Distressed by rampant pollution, a mad scientist unleashes his bizarre Tornado Machine on the world! Will the world praise or condemn him? Use the tornado to engulf houses, buildings, and even power plants! Bring them to his Antarctic Biosphere to rebuild a utopian society and carry out his mysterious experiment. Don't feel like saving humanity? Then simply jump into Rampage Mode where you can destroy everything in your path!

FEATURES:
• Two innovative game modes offering endless action:
(1) Utopia Mode – Climb the mad scientist ranks in Utopia Mode from Flaky Dreamer to Peace Prize Winner
(2) Rampage Mode – Progress through 20 weeks of mad scientist notoriety from Trivial Nuisance to Dr. Armageddon
• Gobble up over 30 collectible buildings and landmarks including Malls, Barns, Opera Houses, Gas Stations and more
• Gather real bonus items like Lightning, Double Funnels and Stars to give your tornado special powers
• Monitor your tornado power-up meter to grow to big, devastating heights
• Great controls – activate the accelerometer controls and navigate the tornado by holding the device like a steering wheel
• iTunes Detection feature allows players to listen to their own music while playing the game

AWARD WINNING GAMEPLAY (J2ME)
• GDC Mobile Innovation Hunt Winner
• IGN Winner for Wireless Game of the Year, Best Strategy Game & Most Innovative Design
• Ranked #1 in PocketGamer's Festive 50 Countdown
• IGN Review: a PERFECT 10!
• PocketGamer Review: 9 out of 10!


MORE FUN ON APPLE APP STORE
Check out DChoc's hottest games: Crazy Penguin Catapult, 3D Rollercoaster Rush, 3D Mini Golf Challenge, Tower Bloxx Deluxe 3D, 3D Brick Breaker Revolution and Millionaire City.

GREAT DEAL WITH THE PREMIUM VERSION
Download the Paid version for unlimited replay value packed with even more gameplay modes, levels, power-ups and special unlocks. Get the full experience!

FIND DC ON THE WEB
Get updated with Digital Chocolate's latest product, promos and game tips! Visit us on Facebook, MySpace, YouTube and Twitter! Find us FAST by searching for dchoc.

All trademarks referenced herein are the property of their respective owners.
IMAGES (5)
OTHER GAMES & APPS FROM ROCKYOU, INC.
News
Features
Latest Releases