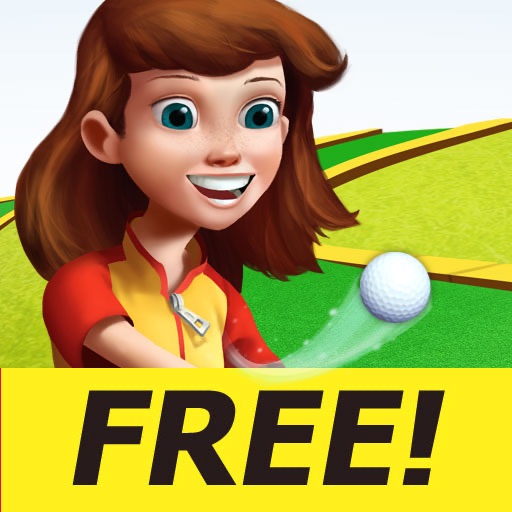 Mini Golf 99 Holes Theme Park FREE
Showing app details for
iPHONE
| | PUBLICATION | DATE OF REVIEW | SCORE | REVIEW LINK |
| --- | --- | --- | --- | --- |
| | | 26 May 2010 | 6.4 | Read the review |
| | | 01 Aug 2016 | 5.0 | Read reviews |
APP STORE SUMMARY
Play through 9 levels of Mini Golf 99 Holes Theme Park for FREE!

-----------------------------------------
Check out our latest games:
3D Mini Golf Challenge
Dictator Defense
Download the Free Version now!

WORLDWIDE HIT
Developed with Digital Chocolate's award-winning mini golf engine and is part of the widely popular mini golf franchise that has sold over 4 million units worldwide.
-----------------------------------------

Why stop there? Download the Full Version to get the rest of the tracks and unlock secret powers in a theme park full of fun and surprises! Challenge yourself on the 4 courses of the Mini-Golf Masters – testing your power, speed and skill. Get unlimited replay value with more holes, objects and fun! Check out the best casual sports game on the iPhone and iPod touch!

BUY THE FULL VERSION AND GET:
• 99 tracks in a theme park full of secret powers, crazy obstacles and characters!
• Play as one of 5 characters: Minny Golfer, El Macho Mustacho, Amber, Swift Stroker and Dr. von Putt - each with their own secret special power!
• Boost your play with up to 4 secret master powers: Jump, Brake Ball and more!
• Crazy track objects including big bumpers, teleporters and spring jumps to spice up the fun.
• Up to 5 theme park areas with expertly designed, unique tracks with spot-on game physics!
• Each theme park area has 3 difficulty levels: Easy, Medium and Hard. Master them all!
• Great controls - gently slide or tap your fingers on the touch screen to control the golf club
• Excellent music and sound effects

MORE FUN FOR FREE ON APPLE APP STORE
There is a Lite version for each D Choc game: Crazy Penguin Catapult, Chocolate Shop Frenzy, Diamond Islands, 3D Tower Bloxx Deluxe, Mini Golf 99 Holes Theme Park, Picto Play Plus, Kamikaze Robots, Tornado Mania!, Pyramid Bloxx, Stunt Car Racing 99 Tracks, Rollercoster Rush, Kamikaze Robots, Johnny Crash, 24 Special Ops and 3D Brick Breaker Revolution.

You can currently find our classic pocket sized games for iPhone or iPod touch in a variety of categories including arcade, action, adventure, puzzle, sim, strategy, racing, sports and more!

GREAT DEAL w/ THE PREMIUM VERSION
Download the Paid version for unlimited replay value packed with even more gameplay modes, levels, power-ups and special unlocks. Get the full experience!

FIND DC ON THE WEB
Get updated with Dig ital Chocolate's latest product, promos and game tips! Visit us on Facebook, MySpace, YouTube and Twitter! Find us FAST by searching for dchoc.

All trademarks referenced herein are the property of their respective owners.
IMAGES (5)
EMBED THIS QUALITYINDEX BADGE
To add a Qi badge for Mini Golf 99 Holes Theme Park FREE to your site:
Copy the HTML code snippet and paste it into your site.
The badge will automatically display on your web page with the Mini Golf 99 Holes Theme Park FREE iPhone app's current Qualityindex rating.
OTHER GAMES & APPS FROM ROCKYOU, INC.
News
Features
Latest Releases