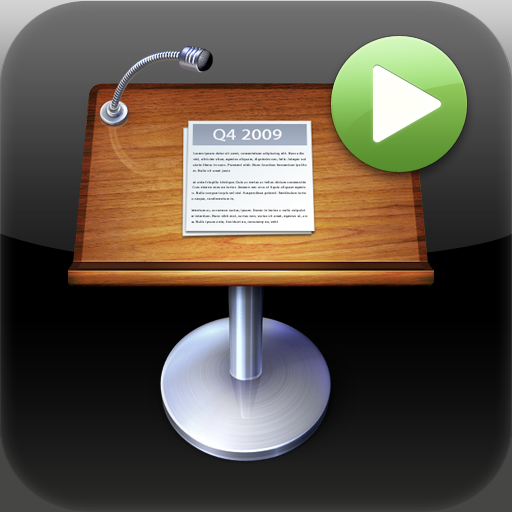 Keynote Remote
Showing app details for
iPHONE
| | PUBLICATION | DATE OF REVIEW | SCORE | REVIEW LINK |
| --- | --- | --- | --- | --- |
| | | 01 Apr 2010 | 10 | Print only |
| | | 28 Oct 2010 | 10 | Print only |
| | | 15 Oct 2010 | 10 | Read the review |
| | | 01 Feb 2009 | 8.0 | Print only |
| | | 24 Jan 2014 | 7.0 | Read reviews |
| | | 28 Nov 2011 | 7.0 | Print only |
| | | 29 Sep 2013 | 7.0 | |
| | | 18 Feb 2009 | 7.0 | Read the review |
APP STORE SUMMARY
Keynote Remote lets you control a Keynote presentation on your Mac, iPad, iPhone, or iPod touch from another iPhone or iPod touch in the room. While you present, view your current slide and presenter notes in portrait, or the current slide and next slide in landscape. Swipe forward to advance and swipe back to return to the previous slide. Keynote Remote works with your Wi-Fi network, so you can control your presentation from anywhere in the room. Keynote Remote can use Wi-Fi or Bluetooth when connecting to your iPad, iPhone, or iPod touch.

Control your Keynote presentations.
• Swipe to advance or return to the previous slide.
• See presenter notes on your iPhone or iPod touch.
• Preview your next slide in landscape orientation.
• Pair your iPhone or iPod touch to any Mac with Keynote, or to any iOS device running Keynote.

Keynote Remote requires:
• Keynote '09 on a Mac (available from the Mac App Store) or Keynote app (1.4 or later) on an iOS device (available from the iTunes App Store).
• A working Wi-Fi connection when connecting to a Mac. A Wi-Fi or Bluetooth connection when connecting to an iPad, iPhone, or iPod touch.
IMAGES (2)
EMBED THIS QUALITYINDEX BADGE
To add a Qi badge for Keynote Remote to your site:
Copy the HTML code snippet and paste it into your site.
The badge will automatically display on your web page with the Keynote Remote iPhone app's current Qualityindex rating.
OTHER GAMES & APPS FROM APPLE
Latest news on Keynote Remote
News
Features
Latest Releases